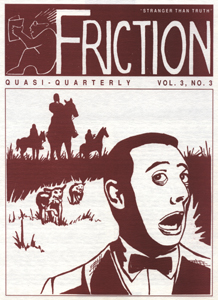 Friction Quasi-Quarterly is the careening fiction magazine launched by Wampus Multimedia in 1989. It reached an eclectic and possibly misanthropic core of readers until it keeled over, finally, in 1994. Feisty and ambitious, it labeled itself "stranger than truth." Fundamentally shameless, it counted the novelist Kurt Vonnegut among its paid subscribers.
It started this way:
"This premiere issue... marks the debut of a sly catalyst for the dormant imaginations of couch potatoes and noted thinkers alike, a sort of overdue escape from Reader's Digest. Fiction designed to arouse indignation in even the most gentle reader will dominate these humble pages. The reader need not fear unwarranted intrusions of non-fiction material; at no point will anything resembling film or fashion criticism be found here. FQQ will run no advertisements."
And so it went.
Authors, illustrators, and other contributors included Paul Bloch, J.M. Cummings, Keith Donohue, Mark Doyon, Stephen Gerard, Paul Golder, Scott Goodrick, Victor Herman, Philip Hughes, Neil Kelly, Kevin Kerr, Laura Jensen, Valerie Larson, K.G. Lewi, G.D. Malbraith, Alisa Mullins, Gregory Nyman, Kathleen F. O'Sullivan, Robyn Parnell, George K. Rosenstock, John Shaw, Matthew Shields, Monique Thomas, C.R. Torrey, and Bartrand Williams. Recurring features included the post-apocalyptic comic Glo-Boy by G.D. Malbraith and Scott Goodrick.
Editor: Mark W. Doyon
Associate Editor: Kevin J. Kerr
Art Director: Alisa Mullins
Contributing Editors: Laura Jensen, K.G. Lewi, G.D. Malbraith, Bartrand Williams
Design Consultant: Valerie Larson

Buy The Complete Friction (all 18 issues) in Adobe Acrobat format for $14.95.

Get comical shirts and mugs.
What could be better?

Premiere Issue (1-1)
An angry young man heads west; dominos fall in Central America and Iowa; politics and the media make everyone's lives miserable; a self-obsessed junior executive gets his jock handed to him.
Infinitiplicates / Domino Theory / Nod for President / A Fair Fight
War of Subversion Issue (1-2)
A large rodent exerts influence in the aftermath of a holocaust; ex-lovers shroud a mutual distaste for one another in arguments over aesthetics; a radio talk show host bares all; a hoodwinked employee of a national charity loses his lunch.
Ground(hog) Zero / A Night Like Any Other / Silk Stockings from Deaf Ears / Green

Human Animal Issue (1-3)
A beloved arts patron meets a grisly end; animal rights activists study the teachings of Jim Jones; a small town girl achieves unwelcome tri-county celebrity; a well-meaning youth minister is overcome by spiritual lust.
The Light of Evening / Jonestown / Everybody Loves You, Baby / Tom's Doubts
Male Bonding Issue (1-4)
Estranged buddies recreate a forgotten Little League melee; a lonely drug fiend reminisces about wanton substance abuse; a mentally paralyzed cuckold downs beer with a contractor.
Night Baseball / Think Local / The Fear of Living Adequately

Life As B-Movie Issue (2-1)
An elderly couple walks around the world; a philandering husband incurs the wrath of a jealous insect; a lonely drug fiend takes cover in a one-star motel; a seventies re-tread feebly resists contemporary relevance.
The Seventh Time / Fly On the Wall / Saturday / Days of Beer and Daisies

Writers' Bloc Issue (2-2)
A grieving father waits for his son to fall from the sky; a wily reporter taunts a witness to murder; a suburban commuter gets older and meaner; a bad actress brings the house down.
Falling Up / (Un)apparent Time / My Tennis Whites / She Loves the Theatre

Accountability Issue (2-3)
A high school baseball star mimics William Styron; gas station patrons practice self-determination; post-adolescents cross into hyperspace; a teacher psychically paws a cheerleader; grown men attempt to kill a turkey.
Junebug & Me / Drive-offs / Brain Food / St. Vladimir's / This Old Man

As You Perceive It Issue (2-4)
A seemingly whole young woman splits in two; a father fails to find Ted Williams in his young son; a miserable executive suffocates in bars and bathrooms; an angry young man finds love and realization in the big city.
A Lovely Day for Riding / The Outfielder / Turn to Silence / A Little Black Magic

Enlightened Self-Interest Issue (3-1)
An ambitious teen strives for excellence in sandwich delivery; Beatles music accompanies family pathos; a great salesman meets his maker; a writer and his audience pass like ships in the night.
Gunga's Dinner (The Kiplinger Letter) / Do You Want to Know a Secret? / An Act of God? / For Labella, Always
Mob Rules Issue (3-2)
An interviewer's spiritual hunger is inadvertently satiated; an obese ballet dancer triumphs unexpectedly; a classic film buff falls victim to video; a pair of mischievous youngsters unwittingly perpetuate racism.
Guide My Sleigh / Bali High / As You Desire Me / The Oath
Desperate Men Issue (3-3)
Affluent white people set new standards for insensitivity; an anarchistic public servant adopts a strange new diet; a small town becomes obsessed with a TV-crazed lunatic; a would-be law student opts for early retirement.
The Wine Cellar / Bathouse Lunch / A Boy and His TV / Early Out in Ohio

Dog Eat Dog Issue (3-4)
A bankrupt contractor builds a collection of pornographic videos; an elderly couple do the wild thing; an angry young man and his livid girlfriend kill a deer with a Volkswagen.
Late Show / The Mating Game / The Accidental Purist

Politically Correct Issue (4-1)
An earnest Grammy contender waxes ecological; a resourceful financier purchases spiritual credibility; a dead man ponders a return to life; a quiet treasury clerk bucks the system.
Colonel Green / Business / Bodhisattva / North

Smoke-Filled Room Issue (4-2)
Mischievous careerists ransack the office of a Senator; a homeless man perfects a unique vocabulary; pleasantries spoil an otherwise promising wake; a disgraced politician plots his return.
Another August Morning / World Smiles Back / The Quayle Business / Going Underground
Maximum Utility Issue (4-3)
A Prospectus for Free Love in the Nineties / Empty Chambers / Strange Mercy
Goodwill Toward Men Issue (4-4)
Jure Divino / Postcards from a Broad / Coyotes
Debtors' Prison Issue (5-1)
Intro: Just Don't Bend Over to Pick Up the Soap / La Boheme / Idle Wheels / No More Free Rides / A Shortness of Breath

Outward Bound Issue (5-2)
Intro: Outward, Young Techno-Geek / Genetic Drift / Civics Lesson / Broadside Burn