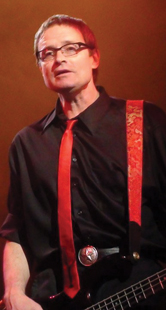 "With Treadmarks, Blair has more than earned his rightful spot alongside such latter-day neo-folkies as Steve Forbert, John Wesley Harding, and Billy Bragg. That's fine company, indeed." —Amplifier Magazine
San Francisco-based "singer at large" Johnny J Blair creates pop music hailing from sources as diverse as the British Invasion, Motown, and Tin Pan Alley. An adept multi-instrumentalist, he writes adventurous songs that get under the skin while speaking to issues larger than romantic love and loss. His recordings reflect a spectrum of styles and traditions, drawing on influences as disparate as the Velvet Underground, the Beach Boys, and Sam Cooke. Through this virtual clinic of composition and performance rings a note of missionary passion.

Blair's I Like the Street wanders the nocturnal big city, plumbs the vagaries of the heart, and ultimately returns home to an intersection of music and spirit. With knowing nods to Lou Reed, Roxy Music, and '60s spy movies, Blair infuses his urban noir with a disarming sense of hope and optimism. Sure, it's bleak, he seems to say. But it's going to be OK.

"I don't always know what I intend when I start a record," Blair says. "For me, recording is like breathing, traveling, drinking… a calling. You just keep doing it and results ensue. What I do with the results is another story. For this record, I tried not to be too 'eclectic,' at least compared to my other albums. Although I'm still casting a wide net, the consistency of themes and tone ties it together."

From the postmodern spy vamp, "If I Could Dress Like Clive Owen," to the overt Velvets tip of the hat, "What Goes On," Blair measures the heart-pounding rhythms of the urban downtown, using the title track, which cannily catalogs a few of his favorite things, as context. By the time he's finished, we begin to understand why people gravitate toward the dark mysteries of life in the big city.
Blair creates what Goldmine magazine called "pop music with a conscience," accessible music rooted in a sense of justice. Honest, direct, and inclusive, his work exalts the spirit without piety, and calls the audience to empathy. An accomplished arranger and producer (e.g., Davy Jones, The Monkees), he employs a colorful palette on his landscapes, where genres happily co-exist.
Also available from Wampus: Treadmarks, Grateful, and Fire.
Listen at Bandcamp | Spotify | Apple Music | Amazon