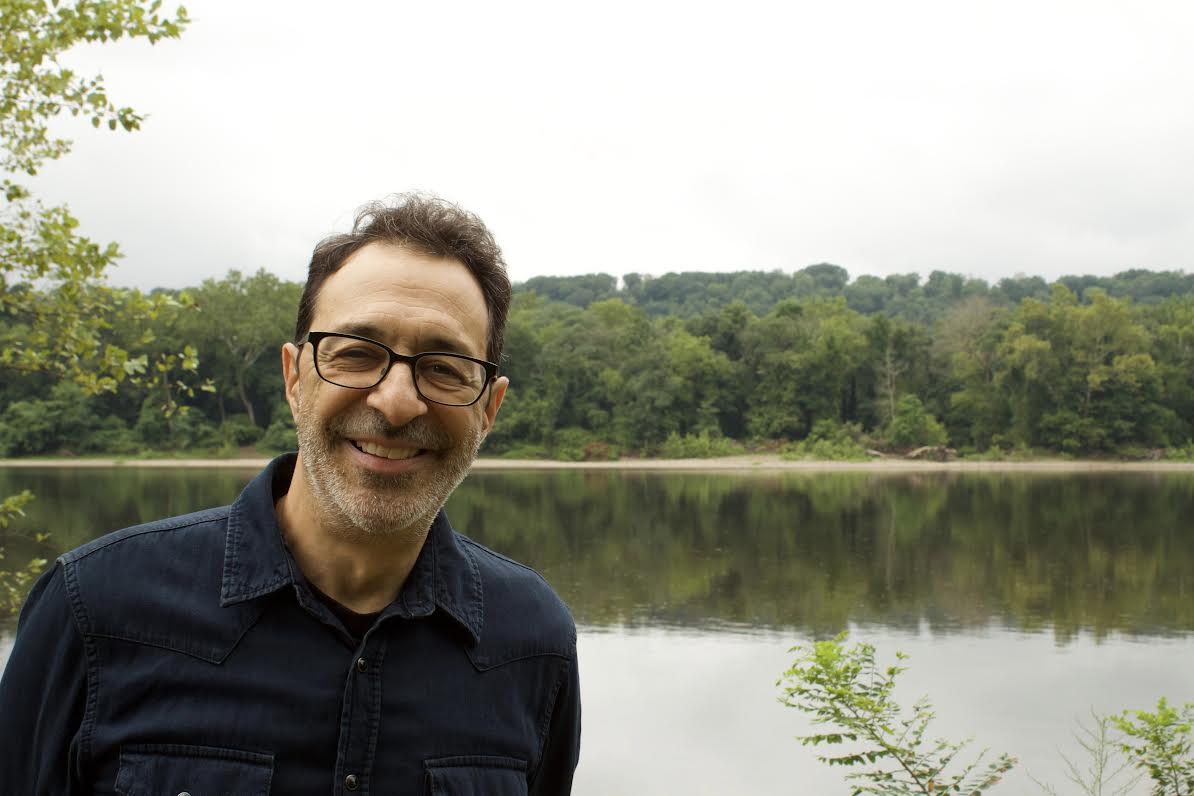 [Wampus]: Your novel, We Are All Together (November 29, 2022), is set in the mid-to-late 1960s and considers rock music as a refraction of social change. How durable is the art from the '60s? Are there still lessons to be learned from it?
[Richard Fulco]: When I first started singing in a rock and roll band in the late '80s, hair bands, heavy metal, and pop music were mainstream. I just wasn't interested in learning anything that Poison, Megadeth, or Paula Abdul could teach me. At least they couldn't teach me the things I was eager to learn, so I got my education from the music of the '60s.
That music is still relevant. Listen to the vibrant and diverse records of the past and you will surely be informed of civil rights, the counterculture, the rise of conservative politics, drugs, consumerism, the Cold War, Vietnam, the sexual revolution, women's liberation, and environmental matters. Listen to the vibrant and diverse records of the past and you will surely be informed of our present culture. And if nothing else, you will have at least gained a musical education.

[Wampus]: The characters in We Are All Together struggle with issues of self-awareness and identity. Is their growth tied to the music of the period, or does it result more from their distinct experiences as artists?
[Richard Fulco]: I agree with James Baldwin: "The only real concern of the artist is to recreate out of the disorder of life that order which is art."
The altruistic Dylan John, a pioneer of psychedelic rock, wrestles with the disorder of 1967. I think all great artists, and Dylan John is truly one, are seeking truth. Dylan, however, is unable to find truth and order in his music. Ultimately, he believes the world doesn't need another rock star, so he dedicates himself to the civil rights movement: "I've gotta do something more meaningful with my life. Something more than just pop music." My protagonist, Stephen Cane, would be the first to admit that Dylan is "making the world a better place with his music."
Meanwhile Stephen, who desperately wants to be a rock star, is not interested in changing the world. Unlike the musical genius that Dylan is, Stephen is so determined to "make it" that he is neither seeking truth nor order but rather fame and wealth which he believes will be validation for the life he has chosen. Although Stephen is a fine guitarist, he is an interpreter and not a creator who possesses the power of song.
The novel poses such questions as "Does the artist owe the world anything?" and "Does the ailing world need another rock star?" Elvis Costello said, "A song can infiltrate your heart and the heart may change your mind." Never underestimate the power of song. Is there a more truthful song than Marvin Gaye's "What's Going On"? If music is embedded in truth, then it just might have enough power to change or alter the perspective of the listener. And isn't that the point of art?
[Wampus]: Our current social unrest is reminiscent of the fight for equality in the '60s. Is it part of a natural cycle – to return to these bedrock American issues – or are we stumbling backwards as a culture? What role did rock music play in the social upheaval of the Summer of Love?
[Richard Fulco]: At present, the heart of American culture consists of video games, synchronized dancing on TikTok, selfies, and binge-watching Netflix shows. I hope things will turn around. I hope the shift happens sooner rather than later because I can't really dance.
In 1967, rock, R&B, and soul reflected the time. Sure, there was bubblegum pop, but it existed amidst a renaissance in music. The Beatles and the music of the '60s were the end of a great movement in history, and no matter what your position is on the hippies of the generation, whether you think they changed the culture or they were just wayward druggies, you can't argue that the music of the period was rich, deep, eclectic, and illuminating.
Youth culture, which was the counterculture, had surged into the mainstream, despite its contradictions. But when heroin and cocaine replaced marijuana and LSD, things shifted in the culture. Martin Luther King's and Robert Kennedy's assassinations signaled the end of the peace-and-love generation. And the Rolling Stones' gig at Altamont pissed on the death of the hippie.
[Wampus]: Race plays an important role in We Are All Together. We sense the throughline not just from the civil rights movement to today, but from our national origins to today. What does Stephen Cane learn about race? How does it change him?
[Richard Fulco]: The more research I did on the Summer of Love, the more I learned about the Long, Hot Summer where more than 150 riots took place across America. The most notable rebellions were in Detroit and Newark.
I discovered that there were two narratives in the summer of 1967. The white narrative of the Summer of Love – peace, love, and understanding – is more mainstream, while the black narrative of racial injustice, discord, and the quest for equality takes a back seat.
I'm ashamed to say that I really didn't know too much about the Long, Hot Summer until I began writing this novel. The more I wrote, the more invested I became in telling this narrative.
I think We Are All Together addresses a nation struggling with its mythological past. The effects it has had on the integrity of the individual have been irrevocable. Stephen and I have both learned that equality is a myth, that equity is a falsehood, and that as white men we are truly limited in our understanding of what it means to live as a black person in America.

[Wampus]: Your debut novel, There Is No End to This Slope (2014), featured some of the themes you're exploring now – self-absorption and self-destruction, the state of being ill-equipped to deal with modern life, and the absurdity of existence in the cosmos. But Stephen Cane seems more hopeful – and less doomed – than John Lenza (from Slope). Is this difference just a reflection of two different stories, or have you personally become more hopeful as a writer and human?
[Richard Fulco]: Dostoevsky said, "To live without hope is to cease to live." In both novels I pose the question, "What does a dreamer do when his dream doesn't become a reality?" Either you give up hope, embrace futility, and cease to live, or you pursue an alternative dream and hope the new one works out and sustains you.
Stephen Cane is a good twenty years or so younger than John Lenza; therefore his youth has something to do with his resilience and hopeful outlook. He hasn't been punished and beaten up for as many years as John has. Also, Stephen has genuine talent and ultimately believes in his guitar playing, whereas when it comes to art John is stultified, unable to write a damn thing (not even a haiku). Therefore, John does not trust that he even has a shred of talent. Although Stephen experiences heartbreak, loss, and several setbacks and obstacles, he keeps moving, whereas John is weighed down by his past, lugging his suitcase of textbooks through the streets of Brooklyn.
There is a quote from Martin Luther King at the beginning of We Are All Together: "If you can't fly, run; if you can't run, walk; if you can't walk, crawl, but by all means keep moving." When people stop moving and resist the inertia – like Stephen's father – they stop living and simply exist.
Neal Cassady, who is a character in We Are All Together, tells Stephen, "I stop for no one. I just keep moving! I gotta! Don't care what direction I'm heading just as long as I'm in perpetual motion. Otherwise, I'm a goner. And I know that. I do."
Neal Cassady meets his tragic end, but his words inspire Stephen to continue his journey to San Francisco to participate in a recording session that might not even happen. John Lenza, on the other hand, has a more ambivalent future. At the end of There Is No End to This Slope, John tosses the wedding ring he had been wearing despite his divorce into the Atlantic Ocean. I suppose that gesture indicates that he has broken free of the past and will pursue the life he has yearned for. We can only hope. For John Lenza's sake.
—
Richard's addendum for further study:
[Richard Fulco]: In "No Surrender," Bruce Springsteen sings, "I learned more from a three-minute record than I ever learned in school." The following songs, an incomplete and fractured list, have served as my geography, algebra, and Earth science textbooks:
Waterloo Sunset. A Day in the Life. Gimme Shelter. The Real Me. A Change Is Gonna Come. God Only Knows. For What It's Worth. Subterranean Homesick Blues. California Dreamin'. The Sound of Silence. Purple Haze. Turn! Turn! Turn! You Really Got Me. Oh, Pretty Woman. Like a Rolling Stone. Louie Louie. (Sittin' on) the Dock of the Bay. Respect. I Heard It Through the Grapevine. Soul Man. Where Did Our Love Go. I Got You (I Feel Good). I Want You Back. Suite: Judy Blue Eyes. House of the Rising Sun. Ain't Too Proud to Beg. White Room. Fortunate Son. Pinball Wizard. Unchain My Heart. (I Can't Get No) Satisfaction. Help! While My Guitar Gently Weeps. Tears of a Clown. Signed, Sealed, Delivered (I'm Yours). Everyday People. We Gotta Get Out of This Place. Wooly Bully. Summer in the City. Get Together. Walk on By. Wipe Out. Running Scared. Last Train to Clarksville. Heartbreaker. Livin' Lovin' Maid. Nowhere to Run. Arnold Layne. See Emily Play. The Thrill Is Gone. Summertime Blues. I'm Waiting for the Man.
Put these tunes on your Spotify! There are lessons to be learned, children.
—
Richard Fulco received an MFA in playwriting from Brooklyn College, where he was the recipient of a MacArthur Scholarship. His stories, poetry, interviews, essays, and reviews have appeared in The Brooklyn Rail, Failbetter, Across the Margin, Fiction Writers Review, Gargoyle, The Daily Vault, and American Songwriter. He lives and teaches in New Jersey. We Are All Together is his second novel.
(Photographs of Richard Fulco by Nan Ring.)