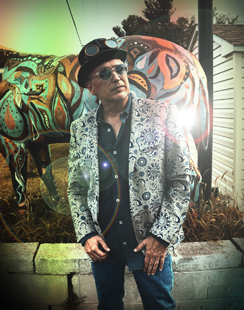 "Inspired song structure, thematic consistency and depth, excellent instrumentation, original and compelling lyrics, the human touch, rock tradition, songwriting superiority, vocal harmony, ironic smiles, America, sadness, beauty, and an enveloping sense of personal involvement and connection." –Fleabomb
Waterslide's new Ray EP is out. Wampus spoke about it with Mark Doyon.
You're singing in the voices of different characters.
Yes. There are school kids, a bus driver, a kidnapper, and an everyman kind of watching from the wings. Their lives are simmering in this stew of danger and innocence. The crime affects them all.

Heroes and villains?
Ray is about the simple goodness anyone can show in a crisis. The hero is an unassuming person just going about his job. He just reacts.
Why this particular story?
Society is always kind of breaking apart and trying to hold itself together. The idea that somebody can thrive on their own is a fantasy; we have little choice but to rely on each other. Together we can rise above obstacles. We can fix mistakes.
This is based on a real event?
Well, it isn't a documentary. It was a media story decades ago. In the last song we get a question about the hero: "Do they hold a patch of open sky?" It's like, "Can we be saved?" Or are we destined to destroy ourselves by indulging our every silly, selfish, self-destructive whim? (laughs)
So what was this event?
You'll remember it. It's a good story.
Featuring bassist Eamon Loftus, fiddler Dan Hochhalter (Dierks Bentley, Keith Urban), vocalist Audrey Karrasch (Alke), keyboardists Steve Burdette and Jimmy Maddox, and singer-songwriter Mark Doyon (Arms of Kismet), Ray EP is a splash of sunny folk-rock under a stormy sky.

Doyon's music has been featured in PopMatters, The Daily Vault, Hybrid, Skope, Neufutur, Groovevolt, Ear Candy, Modern Dance UK, Delusions of Adequacy, and many other outlets. It has been playlisted by Sirius XM, AOL Radio, Yahoo Launchcast, Creamy Radio, and Radio Crystal Blue. In the words of Radio Casbah's Mike Perazzetti, "On the surface, it's great power pop. A little below the surface is a whole other species of musical madness."

That approach fuses acoustic, organic instrumentation and found sound, summoning a warm, analog vibe that sounds as natural in a coffeehouse as it does on a car radio. Guitars and dancebeats coat sugary melodies and fractured lyrics, blending genres in offbeat and revelatory ways.
Doyon also records as Arms of Kismet.
Ray EP was released on October 28, 2022.
Listen at Bandcamp | Spotify | Apple Music | Amazon