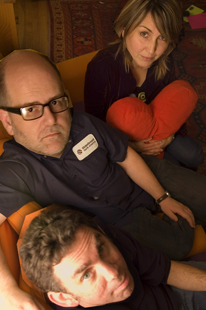 "The Crowd Scene is a walking encyclopedia of pop hooks and melodies from both sides of the Atlantic. Sometimes it's the brainy pop of 10cc or the quirky cleverness of Squeeze, sometimes it's the sweeter confections of Neil Finn, sometimes it's Brian Wilson's soaring Pet Sounds harmonies and the moody reflections of Jellyfish." —Audiocafe

Fronted by the husband-and-wife tandem of Grahame Davies and Anne Rogers, and supported by percussionist Evan Pollack, The Crowd Scene mints a timeless pop evoking the bittersweet sensibility of mid-period Beatles, Brian Wilson, Ray Davies, and — more recently — Elvis Costello, the dBs, and Aimee Mann. What emerges is a melancholic optimism that acknowledges life's oblique obstacles and simple wonders.

Mastered by Jon Astley (The Who, George Harrison, Tori Amos) at Close To The Edge in London, With Complete Glossary for Squares features context-aware cameos from Chris Stamey, formerly of the dBs, and Neil Luckett of tvfordogs.
Also available from Wampus: Turn Left at Greenland.
Listen at Bandcamp | Spotify | Apple Music | Amazon