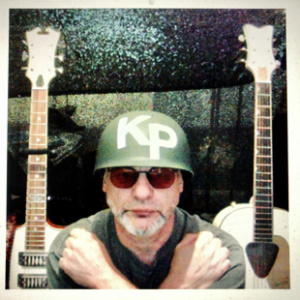 "Though the title may portend doom, Popof shows no fear, flying through this full-length while displaying a confident and unabashed approach….  End of Greatness is an intelligent and delightful affair." –Wes Barker, Amplifier Magazine
Now and again, you just have to pick up your guitar and play. Most likely it won't kill any fascists, but sometimes it's the thought that counts. Sometimes it takes some inspired noise to combat the mindless chaos.
Action Figure, the new album from singer-songwriter Kowtow Popof, isn't exactly a call to arms. It's more like a blast of buckshot sprayed at an insane reality. The joyous assault kicks off with "Funksucker," a tormented troubadour's unhinged appeal to be understood. In the twangy "Mayor of Geneva," the devotee of a politician becomes disillusioned with the target of his admiration. In "Egyptian Wafers," guitars chime as the resident of an old folks' home solicits contraband liquor from visitors, and struggles to recall better days.
By the time "One Way Trip" rolls around, the world-weary singer is booking a flight to the Moon. Finally the musical gravity that has kept him sane tugs him back down to Earth, and all that remains is the question of whether he has what it takes to pen the next song.
"How will it be if you just sing the tune all the way to the end of the line?" he sings in "Cheap Wig Blues," an airy, introspective ballad. With Action Figure, Kowtow Popof is on a quest to find out — and you're invited to tag along.
Released on October 30, 2020.

Also available from Wampus: Tastes Like Armageddon, Exalted Headband, End of Greatness, Eat My Dust, Coaster, Songs from the Pointless Forest, and more.
Listen at Bandcamp | Spotify | Apple Music | Amazon