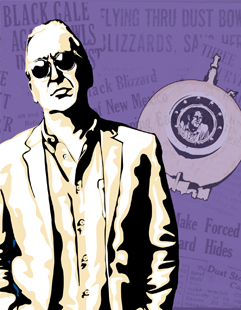 "Witty, idiosyncratic indie rock that is to a band like Maroon 5 what a film like Sideways is to one like Miss Congeniality 2… These are songs to not just listen to, but explore, a series of musical masks donned by an artist with keen insight and an outsized sense of playfulness." —The Daily Vault
"One arm reaches left… The other arm is dead." Maybe album-opener "Bathysphere" is about our political system, or maybe it's about a health issue. Either way, something needs to give.
Otherwise…
In a return to straightforward songcraft, Arms of Kismet leavens the bop with tones shimmering and strident on the new Ballast and Bromides. "The Corner" conceals tomorrow's love or loss. "Zanzibar" mourns an idyll unrealized yet celebrated. "Be There" and "True North" ponder the perils and virtues of staying the course and of starting anew.
In the end, singer-songwriter Mark Doyon takes a step around the ever-present corner. Is the past a comfort? a caution? a storage locker packed with baggage?
And youth? As we live and breathe, gratitude ascends.

Arms of Kismet summons a warm, analog vibe that sounds as natural in a coffeehouse as it does on a car radio. Guitars and dancebeats coat sugary melodies and fractured lyrics, blending genres in offbeat and revelatory ways. Brooding and poppy, funny and foreboding, it's toe-tapping, tragicomic rock 'n' roll.
Ballast and Bromides was released on September 21, 2018. Guests include Kowtow Popof, Neil Luckett of tvfordogs, and former Wampeters bandmates Scott Goodrick and Eamon Loftus.
Doyon also records as Waterslide.
Also available from Wampus: Eponymous, Cutting Room Rug, Play for Affection and The Helium Age.
New singles "My Projection of You," "Potter's Field" and "Dreamland" are out now.
Listen at Bandcamp | Spotify | Apple Music | Amazon