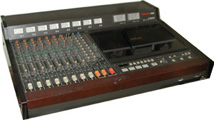 The first recording band I was in made albums on an all-in-one portable studio with eight tracks of audio on 1/4-inch, analog tape. Having cut my teeth until then on various four-track cassette decks, I found this reel-to-reel, hard-wired hulk with close-to-pro EQ and signal routing to be something like a miracle. Next to other home-recording setups, it was powerful and elegant and seemingly capable of whatever we imagined. It was called the Tascam 388 Studio 8.
I bought my 388 with a timely loan (begging is underrated) from Mom and Dad in 1987. Around that time, the only other 388 I knew of belonged to singer-songwriter Kowtow Popof. We both loved the comprehensive design, the simplicity, the sound quality. Most everybody else was using old 1/2-inch reel-to-reels and converted live mixers, and considered the 388 a sort of gimmicky aberration. Others were still making do with their four-tracks ("I just need to make demos, man"), and considered the 388 prohibitively expensive.
But the 388 was an exceptional machine, at that price ($3,000) or a higher one.
Like all well-designed tools — think of Apple products today — the 388 was intuitive, easy to use, and more capable than the amateur piloting it. In an era when the term "patch bay" sowed nausea in the guts of recordists, the 388 was the first decent-sounding, mass-market machine to eliminate the brambles of external routing between recorder and mixer.
Years later I learned that singer-songwriter Alice Despard had also been using a 388 during that period. East River Pipe had used a 388 to create Shining Hours in a Can and other seminal albums in his Queens apartment. The Black Keys had made their early records on a 388. I began to realize that this versatile, all-in-one multitrack had been operating in the lairs of half the obscure songwriters of the late '80s and early '90s. Recently, when I ran into J. Scott Watson, formerly of The Intentions, he mentioned, out of the blue, that he had owned and used a Tascam 388.
Eventually we all moved on to ADATs and hard disks and the greater magic of digital audio workstations. The 388s, many of which by then needed new tape heads, fell to the purists on eBay.
I realize now that the Tascam 388 was emblematic of the burgeoning DIY aesthetic, that it symbolized for some singer-songwriters a proud self-sufficiency. We hated ponying up for commercial studio time. And we thought, before the advent of the independent studio, that there might be a better way.
Turned out there was.
26 thoughts on "DIY: The Mighty Tascam 388"
Alice Despard

Leo

Ted

Dan

Tom Simpson