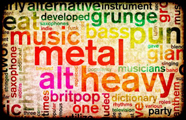 As a recording or performing artist, you find yourself answering a familiar question: "What kind of music do you play?"
How do you answer?
Maybe you have a stock reply — "rock," "folk," or "pop." Or maybe you try to be a little more descriptive — "modern rock," "folk rock," or "indie pop." Or maybe you try to connect more directly with the person — "Pearl Jam-style rock," "Barenaked Ladies-type stuff," or "a Sufjan Stevens sort of thing." These generalizations categorize what you do, make it digestible for someone else, give them an entry point. But they don't reveal much about you.
Is that what you want?
Why Music Genres Exist
Music genres exist to differentiate, for practical purposes, between "styles." They are helpful to retailers wanting to separate classical from jazz, or country from rock. They are useful to marketers concerned with "relatability." They do not, technically speaking, describe anything important about your music. They simply pigeonhole specific pieces of music with generalized tags, removing the identifiable details for the sake of the whole.
If you're an original artist, music genres present a problem for you.
Sure, a music scene built around a genre might help you to "fit in" or reach a certain type of fan. But your true challenge as an original artist is to demonstrate the uniqueness of your work. The ways in which your work resembles that of others do not distinguish you. The characteristics that make you "accessible" are actually your most unremarkable.
Once you make a first impression, the categorization of your music actually works against you.
As an original artist, you need to make sure that doesn't happen.
Defeating Music Genres
Let's try this again. You're asked the question: "What kind of music do you play?"
How do you answer?
Try this: "I play original music. It might remind you of other things you've heard, it might not. That's up to you, not me. I hope you like it, as I'm not trying to trick you into liking it by giving it a ham-fisted resemblance to the Dave Matthews Band. I'm just doing what I do."
See? Easy. It's not a genre. It's you.
6 thoughts on "The Tyranny of Music Genres"
Phillip