There has never been a better time than now to be an independent artist. More easily and efficiently than ever, you can build a digital recording studio in your home, connect directly with fans through social media, and distribute your wares around the world through artist-friendly companies like DistroKid and CD Baby. It's a DIY world, right? Thanks to powerful, affordable technology, you can cover the bases — from creation to marketing to distribution to retail — without anyone's permission, entirely on your own.
So who needs a record label?
The short answer is that nobody needs a record label. The days when only a record label could introduce and expose an artist to the public are gone. If you can accomplish everything a label might — produce records, design packaging and promotions, create marketing plans, build relationships with writers, convince playlisters to feature your music, track your sales, and exploit licensing opportunities — then you essentially are a record label. You are an artist who happens to own and operate a label business.
The long answer depends on your goals as an artist. Do you want to run a label business? Do you have the knowledge and experience to run one? Are you comfortable diverting a share of your time from creative to business activities? If so, setting up and running a label could be a good fit for you.
Either way, you need a creative team.
Maybe it's a carefully chosen group of friends and acquaintances. Maybe it's an established record label that understands your music and career goals. Either way, you have to identify your needs and meet them.
Putting Together a Creative Team
Whether you hire freelance help, sign to a label, or handle everything internally, you need to address five areas to realize your commercial potential as an independent artist.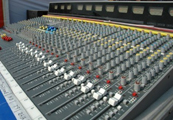 1) Production. Maybe you've built your own recording studio, maybe you book time at a commercial facility. In any case, take the time to learn how your vision translates from performance to recorded audio. The studio can be an integral part of the artistic process, as intrinsic to your sound as your voice, guitar, or piano. Work with an experienced engineer who can help you unlock the possibilities in mixing and mastering your music.
2) Manufacturing. Some manufacturers — of CDs, vinyl, even cassettes — push quality, others price. Some have quick turnarounds, some don't. Do your homework and make sure you get the results you need and expect. Have someone on your team monitor manufacturing at every stage of the process, and ensure quality is high. Your music is an extension of you, and you only get one chance to make a first impression.
3) Distribution. There is no reason your music shouldn't be available for sale to anyone with an internet connection. Study your options and select a distribution partner who guarantees easy access to your music around the globe. Know what additional services they offer, too, such as song publishing administration and sync licensing. Designate a team member to track sales and pay the team on a regular basis.
4) Marketing. Marketing is the public expression of your brand and identity. If it's engaging, it stands to reason you probably are, too. Great marketing can be as artful as the product it endorses. Don't delegate it without your involvement — identify the right person and work closely with them. Every message that goes out about you and your music is a reflection of who you are.
5) Media. Use social media to engage and grow your existing fanbase. Use traditional media — magazines, web sites — to find new fans. When you communicate in a compelling way, people pay attention. Work with your team to come up with fresh content for your audience.
* * *
You know the adage: if you fail to plan, you plan to fail. To succeed as an independent artist, build a versatile team or partner with an established group who can guide and assist you. Don't leave every last responsibility to yourself, or assume everything will work out on its own. Know exactly what you need to do. Have a plan. Cover the bases.
Surround yourself with talented, committed people who are emotionally invested in your art — and see where it takes you.
Resources